PointMan SecureTM Managed Print Services
If you have hundreds or thousands of printers in your fleet and you're looking to gain better security and control over your printing processes, then considering PointMan SecureTM Managed Print Services (MPS) just makes good business sense. It builds on the traditional MPS model with superior "follow me" printing, security, waste reduction, savings, and sustainability.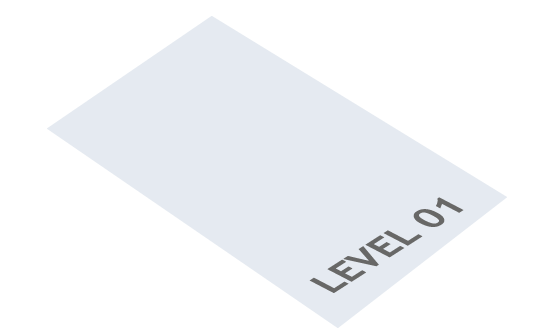 The Move to a Managed Environment: The First Layer of Improvement
The first layer of operations improvements and savings result from basic MPS, available in similar programs from many providers, including the Original Equipment Manufacturers (OEMs).
Fleet assessment and consolidation of all makes and models
Automated toner order fulfillment enables "Just In Time" inventory, freeing operating dollars
Maintenance and repair services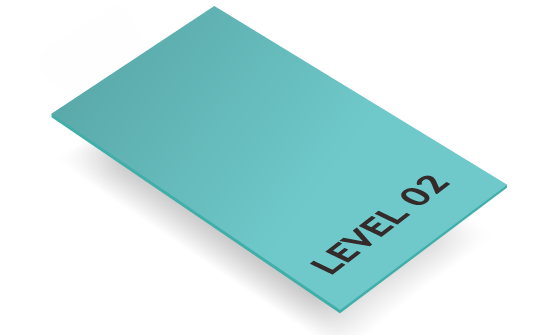 PointMan SecureTM: The Next Layer of Operations, Excellence, and Cost Reduction
Our central focus is our proven plan for gracefully moving clients from an OEM-Driven Strategy to a "You-Driven Strategy."  We achieve it by breaking our customers out of the OEM trap set by the print manufacturers that keep you continually in legendarily expensive OEM toner.  Our software and services also bring solutions for security and waste reduction that others don't.
At PointManagement, we take MPS a step further by adding:
1. Secure Print with "Follow Me" Printing 
Secure helps support mobile "follow me" printing, ensuring that a given user can print to the nearest printer from his or her mobile device. We create the permissions environment necessary to ensure that the user always has the correct level of access to print.
2. Supplies Addressed to Specific Printer
The toner shipment is addressed to the specific printer that needs it, and the box inside is likewise labeled. That means the end user doesn't put a new toner into the wrong printer that doesn't need it. This takes clients from 12% waste to nearly zero.
3. No Duplicate Toner Orders
No duplicate toner orders: Our software doesn't automatically send a replacement if the end user simply removes the cartridge, shakes it, and re-inserts it. Only when the toner reaches your pre-set remaining level does a new cartridge get sent out. This doesn't reset until the replacement is inserted.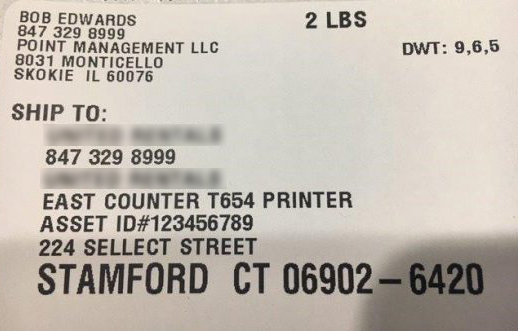 UPS Shipping label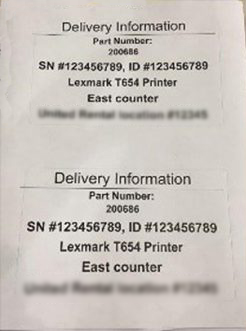 Product label
4. Freedom from Expensive OEM Tactics
OEM MPS meet the basic tests for improving operations vs. an unmanaged environment. But we crack another layer of operations excellence by managing all printer brands equally well. And we enable our clients substantially more savings by building a road map for to gracefully move to a strategy that enables them to supply their printers with toner that is 20% to 35% more cost effective than OEM brand toner.
| Total Cost of Ownership | OEM-Driven Strategy: Limited Options, Higher TCO | Client-Driven Strategy: Multiple Options Lower TCO |
| --- | --- | --- |
| Printer Brand | They don't manage other brands well. You end up stuck having to pick from units that might not meet your needs because that's all that brand offers. | Choose the best make/model for each application and get seamless service and supplies. |
| Printer Replacement | You're forced to buy new every 3 years even if current model meets all technical requirements | Extend asset life; Defer CapEx where appropriate using maintenance/ repairs |
| Supplies | You're cornered into expensive OEM-only toner supply with "new" models every 3 years | We help you choose among printer models for which high quality remanufactured toner is available |
| Managed Print Software | mostly about their own brand. Usually charge extra for other brands and printers out of warranty. | All makes and models are available to meet your needs. Cost included in toner for all brands whether under warranty or not. |
| Maintenance | They sell you expensive warranty extensions | Offer warranty extensions but also advise on alternatives for lower cost (T&M) or support for self-service organizations |
| TCO | Highest possible costs | Lowest possible costs |
5. Predictive Maintenance Software 
We remotely monitor the fleet and automatically move on error messages that point to end-of- life parts like maintenance kits, imaging units, and waste toner bottles and bins. That means we repair them before they break, so you see virtually no downtime.
6. Reforestation and Sustainability
We proudly partner with Print Releaf, a reforestation service that tracks the number of pages printed and offsets that carbon footprint by planting trees in areas of the world that need it the most.  You can see your progress tracked in real time and we post your ongoing results where you can see them along with your certified reforestation results. Your sustainability management team will appreciate this as a clearly measurable and important new sustainable effort for your company.
PointMan SecureTM MPS Benefits
PointMan SecureTM Managed Print  enables our clients to:
| Factor | Before PointManagement | After PointManagement |
| --- | --- | --- |
| Toner Orders | Manual. Time-Consuming. Distraction from Customer. | Automatic. Printers auto-order when toner reaches custom-set remaining life |
| Inventory Required | Operating dollars tied up in 4-5 "Just in Case" toner cartridges at each store | Just-In-Time inventory frees up working capital and inventory space. |
| Toner Out | The disruption of having printer down time. | Backup toner arrives just before it's needed. Continuous printing. |
| Printer Maintenance | The need for repair is signaled by a disruptive printer breakdown. | Predictive Maintenance to replace parts before the printer goes down. No more customer transaction disruptions! |
| Command and Control | Only the end user has visibility to printer error messages. These often go ignored until the printer breaks down. | Remote monitoring of every error message of every printer. 80 reports available for every aspect of print fleet operation. |
| TCO | High-cost OEM toner, maintenance kits, Warranty Extensions | Save a significant portion of your print budget with the highest-quality remanufactured toner, maintenance kits, and (included) software to enable proactive maintenance. |
By optimizing your printer fleet — even if it comprises multiple brands — our trademarked process can target underutilized devices and provide big insights into print spend and waste. Furthermore, using PointMan can help free up capital that is tied up in "just in case" toner inventory and reduce the high cost of replacement ink and toner by providing a high-quality substitute for OEM products. 
Where We Operate
We supply MPS for enterprise customers everywhere across the US and Canada.
From our central location in the Greater Chicago Area, we proudly service all of the US and Canada. Contact us directly to find out how we can optimize your workplace today!